Alhambra - Keswick
St John's Street
Don't Worry, He Won't Get Far on Foot
Synopsis
John Callahan has a lust for life, a knack for off-color jokes, and a drinking problem. When an all-night bender ends in a catastrophic car accident, John wakes up to the reality of being confined to a wheelchair for the rest of his life. In his journey back from rock bottom, his honesty and wicked sense of humor turn out to be his saving grace, as he makes friends with an oddball AA group, finds that love is not beyond his reach, and develops a talent for drawing irreverent and sometimes shocking cartoons.
More Information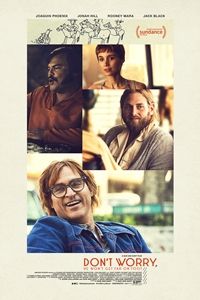 Rating:
15
Suitable only for 15 years and over
No one younger than 15 may see a 15 film in a cinema. No one younger than 15 may rent or buy a 15 rated video work.
Advisory:
strong language, sex references, sex
Film Credits
Producer:
Nicolas Lhermitte
Mourad Belkeddar
Steve Golin
Charles-Marie Anthonioz
Writer:
Gus Van Sant
John Callahan
Starring:
Joaquin Phoenix
Rooney Mara
Jack Black
Tony Greenhand
Jonah Hill
Beth Ditto