Alhambra - Keswick
St John's Street
It's a Wonderful Life (1946)
Synopsis
George Bailey is a small-town man whose life seems so desperate he contemplates suicide. He had always wanted to leave Bedford Falls to see the world, but circumstances and his own good heart have led him to stay. He sacrificed his education for his brother's, kept the family-run savings and loan afloat, protected the town from the avarice of the greedy banker Mr. Potter, and married his childhood sweetheart. As he prepares to jump from a bridge, his guardian angel intercedes; showing him what life would have become for the residents of Bedford Falls if he had never lived.
More Information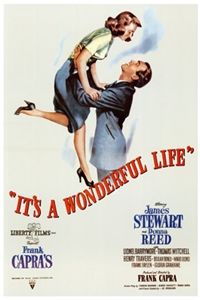 Rating:
U
Universal - Suitable for all
A U film should be suitable for audiences aged four years and over, although it is impossible to predict what might upset any particular child. U films should be set within a positive framework and should offer reassuring counterbalances to any violence, threat or horror. If a work is particularly suitable for pre-school children, this will be indicated in the BBFCinsight.
Advisory:
Contains no material likely to offend or harm
Released:
25 December 1946
Genres:
Comedy
Drama
Family
SciFi/Fantasy
Film Credits
Writer:
Frances Goodrich
Albert Hackett
Frank Capra
Starring:
Thomas Mitchell
Henry Travers
Donna Reed
Lionel Barrymore
James Stewart